ACDX – Aruba Certified Design Expert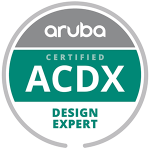 Validate your technical ability to architect large, extended campus and remote WLANs with the ACDX certification.
Certification Overview
This practical exam tests your ability to design a secure campus wired and wireless network. Including remote access and management solution for an enterprise mobility project using Aruba OS (AOS) 8.3. Candidates prove their ability to design solutions that include designing for redundancy, VLANs, WLAN SSIDs, user roles/policies, QoS design, network security and authentication. The exam includes a Visual RF exercise for RF Planning and estimating AP counts on a floorplan. The candidate must also plan the wired infrastructure and recommend new Aruba switches. The candidate may also be called upon to design a Meridian solution. The candidate will use IRIS to create a BOM for the wired and wireless design.
Why earn this certification?
Position yourself as an design expert for large Aruba Mobile First Networking deployments using Aruba Controller, Access Point, Instant, ClearPass, Switch and AirWave product lines
Demonstrate your ability to design highly scalable, custom Mobility First Networking solutions that support enterprise business requirements
Enhance your career and job satisfaction as an Aruba Certified Design Expert
Candidate
Ideal candidates for this exam are networking IT professionals with a minimum of three to five years' experience in designing complex enterprise-level mobile first networks. Candidates should have familiarity with building a detailed bill of materials using the Aruba Controller, Access Point, Instant, switches, VLANs, ClearPass, AirWave products for secure, as well as guest and voice deployments. Candidates should have familiarity with AOS 8.3, AirWave 8.2 Visual RF, Aruba Instant, Aruba Switches, Meridian, ClearPass and AirWave. Aruba also recommends experience with IRIS.
Skill level
Expert
Prerequisites
1. Candidates must have a valid Aruba Certified Design Professional (ACDP) certification OR a valid Aruba Certified Mobility Professional (ACMP) AND Aruba Certified Switching Professional (ACSP) certification in order to register for this exam.
2. Candidates must pass the Aruba Certified Design Expert (ACDX) V8 written and practical exams. The written exam is available via PearsonVue, the practical exam is proctored in-person with an Aruba expert exam proctor.
Duration: 8 hours
Length: Performance Based
Written Exam Code: HPE6-A49
Practical Exam Code: HPE0-A121P