CWNE® – Certified Wireless Network Expert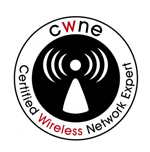 The CWNE – Certified Wireless Network Expert® credential is the final step in the CWNP Program. By successfully completing the requirements, you will have demonstrated that you have the most advanced skills available in today's enterprise Wi-Fi market.
CWNE certification assures that you have mastered all relevant skills to administer, install, configure, troubleshoot, and design wireless network systems. Protocol analysis, intrusion detection and prevention, performance and QoS analysis, spectrum analysis and management, and advanced design are some of the areas of expertise you will need to know.
Ready to apply for your certification? Download the CWNE Application (PDF)
CWNE Requirements
The requirements for earning the certification changed on October 1, 2010, when the CWNE exam (PW0-300) was retired. The new requirements for the certification are:
Valid and current CWSP, CWAP, and CWDP certifications (requires CWNA).
Three (3) years of documented enterprise Wi-Fi implementation experience.
Three (3) professional endorsements.
Two (2) other current, valid professional networking certifications.
Documentation of three (3) enterprise Wi-Fi projects, in which you participated or led, in the form of 500 word essays.
Re-certification every three (3) years by passing the most current version of either the CWSP, CWAP, or CWDP exam.
Download the Application (PDF) – detailed requirements for the certification are in the application document.