ACMX – Aruba Certified Mobility Expert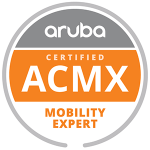 Test your technical expertise in implementing and troubleshooting large-scale WLANs with the ACMX certification. Join the growing list of Aruba ACMX certified experts within Australia and New Zealand.
Certification Overview
This certification tests your ability to design and configure an enterprise Aruba WLAN deployment using AOS 8.3 and aspects common to enterprise customer deployments. Candidates prove their ability to design solutions that include AirWave, L2/L3 infrastructure, WLANs (including MultiZone) and Guest provisioning, design networks around colorless ports and experience with voice applications including knowledge of optimization of UCC, video, and multicast in Aruba environments.
This certification validates that you can:
Differentiate yourself as a leader in integrating innovative Aruba Mobile Networking solutions
Position yourself as a master integrator capable of integrating large-scale Aruba Mobile First Networking deployments using the Aruba Controller, Access Point and AirWave product lines
Demonstrate your ability to design and deploy highly-scalable, custom Mobile First Networking solutions that support enterprise business requirements
Enhance your career and job satisfaction as an Aruba Certified Mobility Expert
Candidate
Ideal candidates for this exam are networking IT professionals with a minimum of three to five years' experience in designing and integrating complex enterprise-level mobile first networks. Candidates should have familiarity with integrating Aruba Mobility Controllers (MM, MC, and VMC), Access Point (CAP, UAP, RAP, and IAP), AirWave, and wired network using ArubaOS switches (3810 & 2930F) products for secure employee access, guest, UCC, QoS, and multicast deployments.
Skill level
Expert
Prerequisites
1. Candidates must have a valid Aruba Certified Mobility Professional (ACMP) certification in order to register for this exam.
2. Candidates must pass the Aruba Certified Mobility Expert (ACMX) V8 written and practical exams. The written exam is available via PearsonVue, the practical exam is proctored in-person with an Aruba expert exam proctor.
Duration: 8 hours
Length: Performance Based
Written Exam Code: HPE6-A48
Practical Exam Code: HPE0-A119P