Aruba Network Security Courses
The following courses are available under Aruba's new Network Security certification track. Browse the courses below and click on the specific course of interest to learn more. When you're ready to take the next step in your career contact SpectroTech online or call 1300 WiFi 000, that's 1300 9434 000 to reserve your seat in an upcoming class.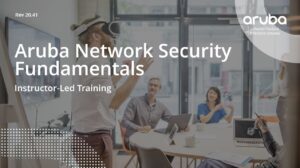 Associated Certification: ACA – Networks Security
Associated Exam: HPE6-A78 Aruba Network Security Associate
The Aruba Network Security Fundamentals course covers foundational security concepts and prepares candidates to take the exam to achieve Aruba Certified Networking Security Associate (ACNSA) certification. The course describes common security threats and vulnerabilities and provides an overview of important security technologies. It teaches how to create a trusted network infrastructure with Aruba mobility solutions and switches. In addition to discussing device hardening, the course discusses implementing security at the edge with AAA, basic roles and firewall policies, dynamic segmentation, and endpoint classification. The course will further explain basic threat detection technologies and how to collect logs and alarms and use them to initiate an investigation.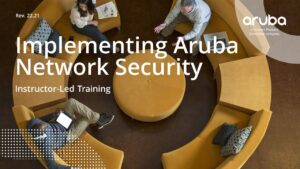 Associated Certification: ACP – Network Security
Associated Exam: HPE7-A02 Aruba Network Security Professional
The Implementing Aruba Network Security course covers intermediate security concepts and prepares candidates to take the exam to achieve Aruba Certified Networking Security Professional (ACNSP) certification. This course helps admins use the Aruba portfolio to implement Zero Trust Security (ZTS) and protect their networks from threats. It explains how to configure Aruba network infrastructure and ClearPass solutions to authenticate and control both wired and wireless users, as well as remote users on a client-to-site VPN. The course further explains how to collect a variety of contextual information on ClearPass Policy Manager (CPPM) and implement advanced role mapping and enforcement policies. The course also covers using ClearPass Device Insight to enhance visibility. Learners will learn how to set up features such as the ArubaOS-CX Network Analytics Engine (NAE), Aruba Wireless Intrusion Detection System/Intrusion Prevention System (WIDS/WIPS), and Aruba gateway IDS/IPS, as well as how to investigate alerts.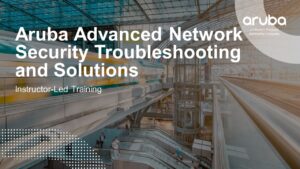 Associated Certification: ACX – Network Security (ACNSX)
Associated Exam: HPE4-A50 Practical, HPE6-A84 Proctored – Aruba Certified Network Security Expert Exam
The Aruba Network Security Troubleshooting and Solutions course helps learners to prepare for Aruba Certified Secutity Expert certification exams.This course covers advanced ways of using Aruba solutions to enforce Zero Trust Security. With a heavy emphasis on scenario-based lab activities, the course covers topics such as designing and implementing role-based access controls, integrating Aruba solutions with third-party products, and detecting and mitigating threats.