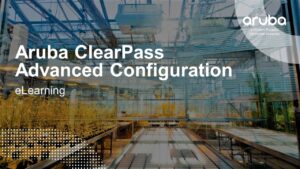 Aruba ClearPass Advanced Configuration
Aruba ClearPass Advanced Configuration Instructor Led Training (ILT)

Click here to register for this course
Course Overview
This advanced course uses a real-world case study on which participants will learn how to design, deploy and troubleshoot several aspects of the ClearPass security product. This 5-day training is focused on active student participation, design exercises, introduction of new features and hands-on labs.
The lectures introduce different customer requirements and explain the fundamentals under the technologies required to fulfill them, while the lab guide displays the entire process from planning all the way up to implementation, testing and troubleshooting if required. Through this process the candidates will acquire skill sets that prepare them to face any challenging scenario.
Price: vILT $4,112 (ex), ILT $4,626.00 (ex)

Contact us for Aruba partner and customer discounts.

SpectroTech also accepts Aruba Training Credits and Vouchers.

Duration: 5 days, Virtual or Classroom – Instructor Led Training (ILT)
Availability: Virtual, Sydney, Melbourne, Brisbane, Canberra and Adelaide. Onsite (customer premises) available for minimum 6 people.
Skill Level: Advanced
Who is this course suited to?
Typical candidates for this training include:
Network Security Experts
Individuals who implement network access control solutions.
Network managers with Aruba access device experience (wired & wireless).
Network administrators who already own a ClearPass solution and are looking to deploy advanced features
Prerequisites
Any current Aruba ClearPass certification.
Aruba ClearPass Configuration course
---