WiFi Health Check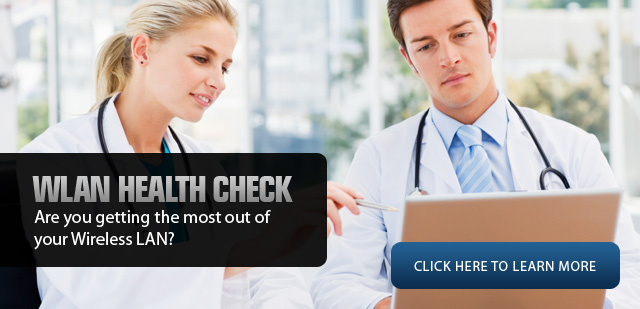 Radio Frequency (RF) is a niche technology and the protocols that Wi-Fi was developed on can be rather complex when you break free of the wired networking tether that most IT professionals, resellers and integrators are use to. When faced with a complex technology in a shared, open air medium, it takes a specialist approach to ensure optimum performance if you wish to gain the most from your investment. Unfortunately many organisations aren't sure where to turn to when things go wrong and quite often organisations aren't aware of existing underlying performance issues until the business needs grow, end-users start complaining, confidence in IT and systems goes down and business has already been impacted. Read on to learn about our WiFi health check which has fast become one of our most popular services.
Would you recognise the following performance problems if you saw them in your wireless network? Would you know what symptoms they cause, how to find them and how to resolve them?
Access Point Oversubscription
Unnecessary Mixed Modulation
Excessive Protection Mechanisms
Inefficient Roaming / Slow Roaming Times
Non-802.11 RF Interference
Co-Channel Interference
Adjacent Channel Interference
Dynamic Frequency Selection (DFS) Channel Hops
High Level of Retransmissions
High Level of Corrupt Packets
Excessive Data Rate Changes
Multipath
Weak Signal
Low SNR
Hidden Node
Mismatched Power Settings
Is your wireless network VoIP ready? Is it secure? Does it present any scalability issues or limitations that can impact your business?
With a specialty focus in wireless technology and a background spanning more than 22 years in Radio Frequency (RF) technology and security, including exposure right throughout Government, Defence, Public and Private organisations, SpectroTech is recognised for our industry leading knowledge and expertise in our field. Being independent, we've consulted in just about every type of Wireless LAN / Wi-Fi solution this market has seen and have refined our skills to offer our clients a unique, vendor-independent WiFi Health Check that's sure to put you back on your way to success with your enterprise wireless and mobility strategy.
WiFi Health Check Inclusions
Onsite Planning and Analysis Meeting
Policy Review and Requirements Analysis
Network and Security Audit
On-site Spectrum Analysis
On-site Wireless Site Survey
On-site Protocol Analysis
Findings Analysis
Documentation and Reporting
Deliverables
Detailed Report on Findings
Site Survey Documentation
Options and Recommendations
Best Practice Design and Configuration
Beyond this we'll be there in person to guide you every step of the way, ensuring you achieve the most out of your enterprise wireless initiatives until you're just as confident in technology driving your business success as we are. Call us on 1300 WiFi 000 or contact us online about planning your WiFi Health Check.