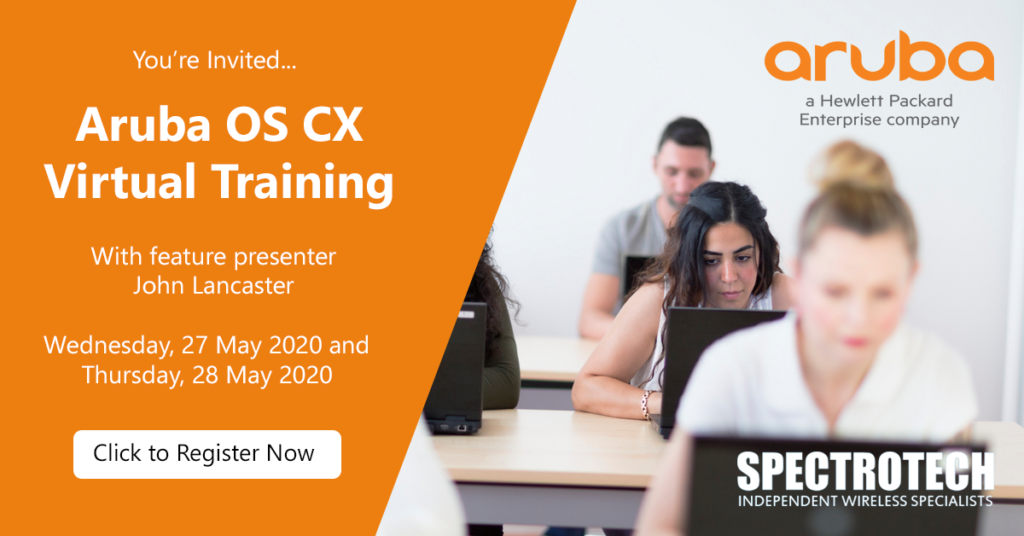 About this training

You're invited to participate in the two-day Aruba OS CX virtual training with special guest presenter, John Lancaster. This event is designed for engineers installing and maintaining purpose-built solutions included within Aruba's CX switching portfolio to satisfy the most demanding use cases from the access layer, to the core, and to the data center.
This is an interactive session with demonstrations and an opportunity to ask your questions throughout.
Our special guest presenter will cover topics including:
CX platform, products, solutions and capabilities

Access layer features and functionality

Aggregation and core layer

Data center features

Configuration and analytics

Management and troubleshooting

Guest Presenter

John Lancaster is the leader among all Aruba Certified Instructors worldwide and is frequently the requested Technical Instructor for all topics Aruba. John holds the ACMX (Aruba Certified Mobility Expert) and ACI (Aruba Certified Instructor) certifications among a wide range of other industry qualifications. Most recently John has been part of a lead group to train over 1,000 SEs on Aruba's new OS CX platform and we're honored to have John present this event for you.

Don't miss out on learning from John in this limited time experience.
When and Where

This virtual event is spread over two days. You will only need to register once and you will be able to attend both sessions.
Wednesday, 27 May 2020 from 9:00 AM to 12:00 PM
Thursday, 28 May 2020 from 9:00 AM to 12:00 PM
Location: Virtual (GoToTraining virtual room)

Brought to you by…

This event is brought to you by Aruba Networks, a Hewlett Packard Enterprise Company in partnership with SpectroTech, Aruba Authorised Training Centre (ATC).