COVID-19 Response Update! … During these unprecedented times, our number one priority is your health and well-being. With many of you working from home at the moment, we acknowledge that this is a great opportunity for staff and self-development and we are well prepared for this. From 16 March until further notice, our classes will be available as Virtual Instructor Led Training (vILT) classes. All practical hands-on labs which make up 80% of most official Aruba classes deliver an identical learning experience virtually with remote hosted labs available via Internet connection. Live instructor delivery and support will also be maintained during your virtual training. Click Here to visit the schedule of virtual classes.

Gain the knowledge, skills and practical experience required to set up and configure a basic Aruba WLAN using the Aruba OS 8.X architecture features with the AMF course. Leveraging instructor provided lectures and labs, the IAW course provides the technical understanding and hands-on experience of configuring a single Mobility Master with one controller and access point Aruba WLAN Click on the heading to learn more.
The IAM course teaches the knowledge, skills and practical experience required to set up and configure advanced features on Aruba WLAN utilizing the AOS 8.X architecture and features. Gain the technical understanding and hands-on experience configuring a redundant Mobility Master with two controllers and two APs. Learn how install a redundant Aruba WLAN network with clustering while using many advanced Aruba features. Click on the heading to learn more.
The Aruba Mobility Boot Camp (MBC) 6.4 combines the IAW and SWDI courses into a single, 5-day training experience. Participants should be prepared for an accelerated curriculum, thus the name boot camp. Click on the heading to learn more.
The Aruba ClearPass Essentials (CPE) course prepares attendees with the foundation skills and knowledge in Network Access Control using the ClearPass product portfolio. The interactive learning with modules and labs is designed to teach attendees the major features of the product portfolio. Attendees will learn how to setup ClearPass as a AAA server and configure the Policy Manager, Guest, OnGuard and OnBoard feature sets plus more. Click on the heading to learn more.
This course prepares participants who are familiar with ClearPass products to master their knowledge through a series of challenging lab exercises, under the guidance of an Aruba Certified Instructor (ACI). In this course, participants are presented with customer case studies, and are required to design ClearPass services, and integrate network devices to meet the customer's requirements.
AirWave Wireless Management Suite Installation, Configuration and Use (AICU) prepares you with the knowledge and experience required to install and use the AirWave Wireless Management Suite: AirWave Management Platform (AMP), RAPIDS, Visual RF, network health diagnostics, client troubleshooting, alerts and reporting. Click on the heading to learn more.
Aruba Switching Courses:
Learn the fundamental skills necessary to configure and manage modern, open standards-based networking solutions with the Aruba Switching Fundamentals (ASF) course. This course consists of approximately 20% lecture and 80% hands-on lab exercises to help you learn how to implement and validate small to medium enterprise network solutions and prepares network professionals for the Aruba Certified Switching Associate (ACSA) V1 exam. Click on the heading for more.
Learn how to implement and operate enterprise-level Aruba campus switching solutions. Hand-on labs give you experience with ArubaOS-Switches, including securing access, redundancy technologies such as Multiple Spanning Tree Protocol (MSTP), link aggregation techniques including Link Aggregation Protocol (LACP) and switch virtualization with HPE's Virtual Switching Framework (VSF) and much, more. Click on the heading for more.
CWNP Courses:
The CWNA – Enterprise Wireless LAN Administration course, whether in an academic format or a 4-day fast-track format, provides the networking professional a complete foundation of knowledge for entering into or advancing in the wireless networking industry. From basic RF theory to 802.11 frame exchange processes, this course delivers hands-on training that will benefit the novice as well as the experienced network professional.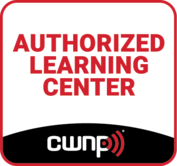 The CWSP Wireless LAN Security course consists of hands-on learning using the latest enterprise wireless LAN equipment. This course addresses in detail the most important and relevant WLAN security protocols, exchanges, and deployment strategies in the enterprise today. We focus heavily on understanding the functionality of the 802.11i amendment (now part of the larger standard), including authentication, encryption, and key management. 802.1X and EAP are also central to this conversation, with an in-depth examination of the inner-workings of each authentication mode and EAP type used in wireless LANs today.
The CWDP Wireless LAN Design course consists of instructor-led training applicable to the design of wireless LANs using the latest technologies including 802.11n and 802.11ac. This course goes in-depth into the design process and provides attendees with the knowledge needed to plan, deploy and test modern 802.11-based networks. It also prepares students for the CWDP examination.
The CWAP Wireless LAN Analysis course consists of hands-on learning using the latest enterprise wireless LAN analysis and troubleshooting tools. This course takes an in-depth look at the functionality of WLANs, intended operation of the 802.11 protocol and Wi-Fi Alliance specifications, WLAN frame formatting and structure, troubleshooting methodology, and protocol analysis. It also includes extensive training in modern spectrum analysis with a focus on advanced RF behavior analysis, data collection methods, interpreting spectrum plots and charts, and understanding advanced features of WLAN spectrum analyzers.