Designing HPE Nimble Solutions
Designing HPE Nimble Solutions, Rev. 18.21 Instructor Led Training (ILT)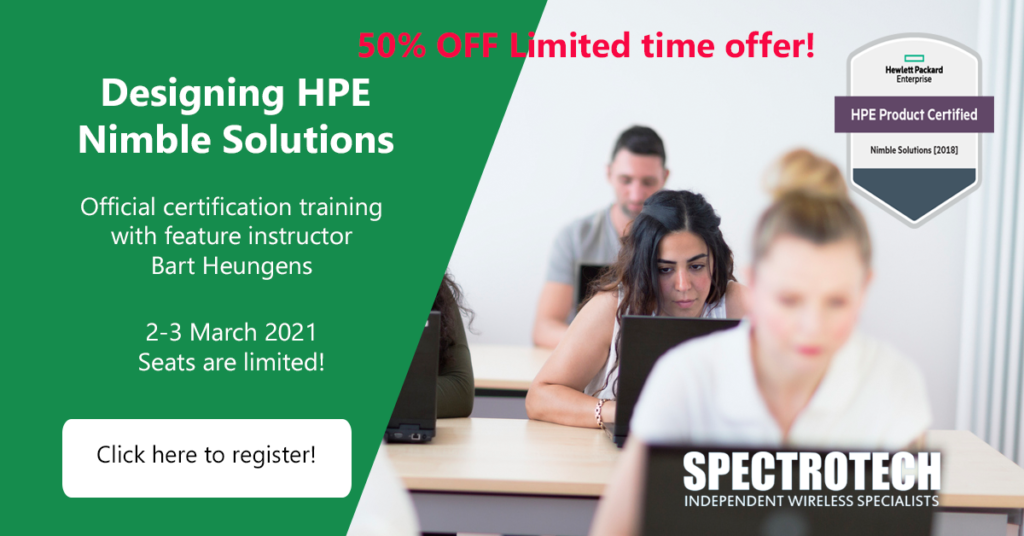 Click here to register for this course
The Designing HPE Nimble Solutions course is an instructor-led course. This course teaches students how to identify, recommend, and explain HPE Nimble storage solutions. It covers the HPE Nimble hardware and software, initial configuration, HPE Nimble Storage Volumes, snapshots, and replication.
The course uses participant centered learning and hands-on labs.
Course overview
Course ID: 01113228
Duration: 2 Days – Instructor Led
Related Certifications: HPE Product Certified – Nimble Solutions, HPE ASE – Storage Solutions Architect V3 – upgrade from HPE ASE- Storage Solutions Architect V2, HPE Master ASE – Storage Solutions Architect V3 – upgrade from HPE Master ASE – Storage Solutions Architect V2
Price: $1,900.00 (ex)

Contact us for multi person discounts.

Availability: Sydney, Melbourne, Brisbane, Canberra and Adelaide. Onsite (customer premises) available for minimum 6 people.
Skill Level: Foundational
In preparation for: HPE2-K42: Designing HPE Nimble Solutions exam
Who is this course suited to?
Typical candidates for this course are IT, facilities or data center professionals, who work in and around the data center and who have the responsibility to achieve and improve the availability and manageability of the data center. Typical candidate job roles include but are not limited to Pre-sales Architects, Pre-sales Engineers, Enterprise Architects, Solutions Engineers, as well as those seeking to enhance their career in HPE Nimble Solutions throughout Australia and New Zealand.
Topics
Module 1: Course Overview

Describe the content of this training 
Locate Nimble documentation 
Describe usage of capacity units 
Introduce Nimble technologies

Module 2: Hardware

Describe the AF and HF Series hardware

Module 3: Scaling with HPE Nimble Storage

Explain Scale-to-Fit with the AF- and HF-Series.

Module 4: Nimble OS Architecture

Describe the AF-Series read and write operations.
Describe the HF-Series read and write operations.
Explain Deduplication
Explain Compression
Describe Sequential stripe writes
Describe Triple+ parity and Triple+ parity with integrated spare
Describe Integrated spare rebuild
Describe Quick RAID rebuild
Describe SmartSecure encryption
Describe changed block operations

Module 5: NimbleOS WebUI Introduction

Explain how to access and navigate the NimbleOS WebUI.
Explain user administration.
Describe how to use Microsoft's Active Directory (AD) with user administration.
Explain how to monitor the array with the WebUI.
Explain how to update NimbleOS.

Module 6: Introduction to customer support and HPE InfoSight

Explain HPE Nimble Support's mission statement.
Discuss the InfoSight Customer Portal.
Describe support coverage and logistics.

Module 7: Array Initialization and Setup

Explain the array initialization process.
Explain the array configuration process.
Describe port and firewall considerations.
Articulate Simple Network Management Protocol (SNMP) setup.
Discuss SYSLOG use.
Describe NimbleOS's event log.

Module 8: Working with HPE Nimble Storage volumes

Describe basic volume concepts.
Explain performance policies and how to create one.
Discuss access control and initiator groups and how to create them.
Explain protection templates and how to create one.
Explain volume collections and how to create them.
Discuss volume pinning.
Show how to create a volume using the WebUI.

Module 9: Introduction to HPE Nimble Storage Snapshots

Describe how Nimble snapshots work.
Explain snapshot scheduling.
Describe need to add Recovery Point Objective (RPO), Recovery Time Objective (RTO), and change rate definitions.
Explain recovering from a snapshot by using zero-copy clones.

Module: 10 Introduction to HPE Nimble Storage Replication

Describe basic replication concepts
List SmartReplicate components
Explain how replication works
Describe replication process
Discuss the replication considerations
Explain SmartReplicate Disaster Recovery

Appendix A: Pre-installation, Racking, and Cabling

Use the pre-installation workbook
Explain rack mounting principles
Tell how to cable an array
Describe networking and Fibre
Channel concepts
Course Objectives
After you successfully complete the Designing HPE Nimble Solutions training, expect to be able to:
Describe the AF & HF Series hardware
Explain Scale-to-Fit with the Nimble Solutions
Describe the AF-Series Write Operations
Explain how to access and navigate the NimbleOS WebUI
Navigate the InfoSight Customer portal
List port and firewall considerations
Analyze the NimbleOS event log
Create protection templates
Configure access control and initiator groups
Describe the need to add RPO, RTO and Change Rate definitions
Explain how replication works
Discuss the replication considerations
Click here to register for this course
---