SpectroTech becomes the first AccelTex Solutions Gold Partner in Asia Pacific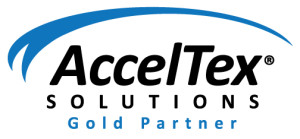 April 4, 2016
San Antonio, Texas, April 4, 2016 – AccelTex Solutions, today announced a partnership with SpectroTech, Australia's independent wireless specialists. AccelTex is a driving force in the Internet of Things and manufacturer at the forefront of products designed to connect new architectures using existing wireless infrastructure to expand the capabilities of traditional wireless networks.
With today's announcement, SpectroTech enhance the capacity to help enterprises exponentially increase their business productivity and deliverables through improved wireless performance across any enterprise WLAN vendor platform.
"AccelTex Solutions' products fit well with SpectroTech's independent wireless specialty focus" says Mark Morgan, SpectroTech Principal Consultant. "Under this partnership, AccelTex Solutions' products will be available to our clients, including WLAN product resellers, solutions providers and customers across Australia and New Zealand."
"The partnership between SpectroTech and AccelTex Solutions will bring new innovation and unique products and solutions coupled with design and executions services to the Asia Pacific region," says Carter Burke, President of AccelTex Solutions. "AccelTex Solutions is founded upon the principle of accelerating wireless productivity, and with SpectroTech, we are able to do this effectively and efficiently in a new region of the world."
For a complete range of AccelTex products available throughout Australia and New Zealand visit:
www.spectrotech.com.au/products/
About AccelTex Solutions:
AccelTex Solutions is a US-based manufacturer specializing in engineering accessory products, including antennas, enclosures, cabling and electrical protection, for any vendor's enterprise-class Wi-Fi access point. With over 22 years' experience in the Wireless industry, we have seen Wi-Fi grow from a nice-to-have to a must-have within the enterprise space.  Our products are designed from customer needs in this ever-changing world to make businesses more productive with a better return on their network infrastructure investment.
Our laser focus means our customers and business partners receive the ultimate, game changing products and services to accelerate the industry faster than ever.
Visit us at www.acceltex.com and follow us on twitter @AccelTex
About SpectroTech:
SpectroTech is an Australian owned enterprise wireless specialist. Founded in February 2003, SpectroTech has been providing independent consulting, training, and expert advice on wireless networking and security technologies for over a decade. SpectroTech is recognised as a leader in our field, lead by a founder with a background spanning more than 24 years in Radio Frequency (RF) technology and cryptography. Our independence enables a one-source preferred partnership with our clients, offering sustainable solutions and competitive advantage for our clients.
We're passionate about wireless technology, recognised as leading specialists in our field and we're proud of our independence.
Visit us at www.spectrotech.com.au and follow us on twitter @SpectroTech