Click here to register for this course
CWNA + Ekahau Certified Survey Engineer (ECSE) Training Bundle

Feature U.S. Instructor:
Keith R. Parsons
Managing Director, Wireless LAN Professionals
CWNE #3
Keith has been teaching and designing Wi-Fi networks for a decade, with deployments from above the arctic circle to Antarctica. Over 3,000 engineers have learned how to apply RF principles and design methodologies to improve their WLANs, from Keith.
Costs:
Once-off bundle price: $4,999 (ex GST)
Ekahau Certified Survey Engineer (ECSE), $2,999 (ex GST) separately
CWNA – Wireless LAN Administration, $3,250 (ex GST) separately
Both of these courses are available separately or bundled. Click on the red button to register for either option.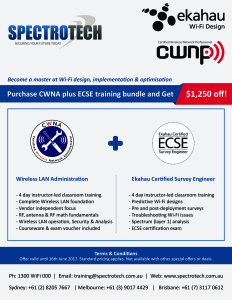 Click here to register for this course
CWNA – Wireless LAN Administration
The CWNA, Enterprise Wireless LAN Administration course, whether in an academic format or a 4-day fast-track format, provides the networking professional a complete foundation of knowledge for entering into or advancing in the wireless networking industry. From basic RF theory to 802.11 frame exchange processes, this course delivers hands-on training that will benefit the novice as well as the experienced network professional.
Associated Certifications: CWNA
Normal Price: $3,250.00 (when not bundled)
Duration: 4 days, Classroom
Prerequisites: Basic networking knowledge, including OSI model and IP subnetting
CWNA Course Outline
The following list contains the official materials covered in the lecture portion of the course and available only through SpectroTech within Australia.
Introduction to WLAN Standards
Introduction to WLAN industry organisations
Discuss protocol standards and compliance
Overview of 802.11 standard and amendments
Discuss additional networking standards that are commonly used to enhance WLANs
Radio Frequency (RF) Fundamentals
RF propagation
Properties of RF waves
Types of power loss and environmental impact on radio waves
Spread spectrum, modulation and coding
Channels and bandwidth
Antennas
Antenna fundamentals
Polarisation and gain
Types of WLAN antennas
Antenna systems
Antenna implementation and safety
RF cables, connectors, and accessories
RF Math
RF units of measure
Basic RF math
RF signal measurements
Link budgets
Regulatory Domains
Regulatory domains
Factors considered
WLAN Operations
Basic WLAN hardware
Basic operating modes
WLAN hardware continued
WLAN connectivity
WLAN architecture
Wireless Network Management System (WNMS)
Power over Ethernet
PoE device types
Power Sourcing Equipment (PSE) categories
Powering 802.11n and 802.11ac APs
802.11 Service Sets
Service set types
Authentication and association
Network infrastructure
Roaming
Load balancing
Basic WLAN Analysis
Protocol Analysis
802.11 Frame Types
Protection mechanism
Legacy power save
Transmission rates
Coordinating Frame Transmissions
CSMA/CD vs. CSMA/CA
Distributed Coordination Function (DCF)
Quality of Service (QoS)
Power management
Modern 802.11 MACs / PHYs
Challenges addressed by modern MACs / PHYs
HT and VHT enhancements
Coexistence mechanisms
Integration and deployment
802.11ac enhancements
Wireless Site Survey Fundamentals
Defining RF site surveys
Spectrum analysis
Types of site surveys
Site survey considerations
Site survey report
Basic WLAN Security
The importance of WLAN security
Security policy
Legacy WLAN security mechanisms
Trusted WLAN security mechanisms
Baseline WLAN security practices
Modern Challenges
Mobile Device Management (MDM)
BYOD
Guest access
High density wireless
Ekahau Certified Survey Engineer (ECSE)
The Ekahau Certified Survey Engineer (ECSE) course, hosted by SpectroTech within Australia, throughout Sydney, Brisbane and Melbourne, provides instructor-led classroom lectures and intensive hands-on labs on all aspects of Wi-Fi life cycle management. This includes:
Wireless LAN and radio frequency (RF) fundamentals
Predictive designs (including practical labs using Ekahau WiFi Planner)
Pre- and post-deployment site surveys
Troubleshooting of Wi-Fi issues
Spectrum (interference) analysis (including labs using Ekahau Spectrum Analyzer)
Reporting
After the course, students will take the ECSE certification exam.
Audience
This ECSE course and certification are designed for Wi-Fi systems engineers, IT administrators, and others working with WiFi, who require an in-depth knowledge on how to deploy and maintain Wi-Fi networks using Ekahau Wi-Fi tools such as Ekahau Site Survey and Planner, and Ekahau Spectrum Analyzer. Classes are open to SpectroTech channel partners, resellers, and end-user customers throughout Australia and New Zealand, and of course international students are welcome.
Prerequisites
Students are expected to have the following skills & knowledge before attending this Ekahau course:
Basics of networking
Strong general computer skills
CWNA recommended (Not required)
Windows laptop with Admin rights for installing software – Macbook with Boot Camp is OK as well – Some exercises will work better with a mouse
Sense of humour is recommended but not mandatory
Ekahau Certified Survey Engineer Course Content
Wireless LAN and RF fundamentals
The life cycle of a Wi-Fi network
How to design and deploy robust Wi-Fi networks
Product installation & activation, basics
Pre- and post deployment Wi-Fi site surveys
Troubleshooting Wi-Fi issues
Spectrum Analysis
Reporting
ECSE Certification Exam
Course Objectives
At the end of the course the student will hold expert knowledge in designing, deploying and troubleshooting Wi-Fi networks, using Ekahau Wi-Fi tools. The knowledge applies to all Wi-Fi network brands. A certification exam will be held at the end of the course.