Click To Receive a Quote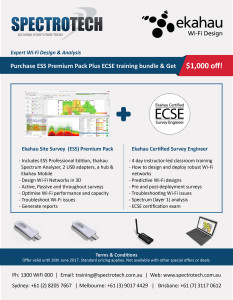 Ekahau Site Survey (ESS) Premium Pack + Ekahau Certified Survey Engineer (ECSE) Training Bundle

Instructor:
Keith R. Parsons
Managing Director, WLAN Pros
CWNE #3
Keith has been teaching and designing Wi-Fi networks for a decade, with deployments from above the arctic circle to Antarctica. Over 3,000 engineers have learned how to apply RF principles and design methodologies to improve their WLANs, from Keith.
Premium Pack Includes:
Site Survey Pro Wi-Fi Network Planning and Site Surveys
Design Wi-Fi Networks in 3D
Perform active and passive site surveys
Analyze and optimize Wi-Fi coverage and performance
Capacity planning and analysis
Various Wi-Fi troubleshooting tools
Automated reporting
Prepare and optimize your Wi-Fi network for RTLS
Premium Pack includes 2 survey adapters and USB Hub
Mobile SurveySite Surveys, Troubleshooting, Monitoring
Android phone / tablet app
Map-based site surveys
Coverage analysis
Real-time analysis and troubleshooting
Active and passive on-the-spot testing
Continous background monitoring
Integrates with Ekahau Site Survey
Spectrum Analyzer Interference Detection & Eliminationg
Integrates with Ekahau Site Survey

Post-survey spectrum heatmaps and Survey Inspector analysis
Real-Time Frequency Monitor combines Wi-Fi and spectrum analysis

Real-time interferer finder
Dual-band operation at 2.4 and 5 GHz
Accurate and easy to use
USB, small form factor
Ekahau Certified Survey Engineer (ECSE)
The Ekahau Certified Survey Engineer (ECSE) course, hosted by SpectroTech within Australia, throughout Sydney, Brisbane and Melbourne, provides instructor-led classroom lectures and intensive hands-on labs on all aspects of Wi-Fi life cycle management. This includes:
Wireless LAN and radio frequency (RF) fundamentals
Predictive designs (including practical labs using Ekahau WiFi Planner)
Pre- and post-deployment site surveys
Troubleshooting of Wi-Fi issues
Spectrum (interference) analysis (including labs using Ekahau Spectrum Analyzer)
Reporting
After the course, students will take the ECSE certification exam.
Audience
This ECSE course and certification are designed for Wi-Fi systems engineers, IT administrators, and others working with WiFi, who require an in-depth knowledge on how to deploy and maintain Wi-Fi networks using Ekahau Wi-Fi tools such as Ekahau Site Survey and Planner, and Ekahau Spectrum Analyzer. Classes are open to SpectroTech channel partners, resellers, and end-user customers throughout Australia and New Zealand, and of course international students are welcome.
Prerequisites
Students are expected to have the following skills & knowledge before attending this Ekahau course:
Basics of networking
Strong general computer skills
CWNA recommended (Not required)
Windows laptop with Admin rights for installing software – Macbook with Boot Camp is OK as well – Some exercises will work better with a mouse
Sense of humour is recommended but not mandatory
Ekahau Certified Survey Engineer Course Content
Wireless LAN and RF fundamentals
The life cycle of a Wi-Fi network
How to design and deploy robust Wi-Fi networks
Product installation & activation, basics
Pre- and post deployment Wi-Fi site surveys
Troubleshooting Wi-Fi issues
Spectrum Analysis
Reporting
ECSE Certification Exam
Course Objectives
At the end of the course the student will hold expert knowledge in designing, deploying and troubleshooting Wi-Fi networks, using Ekahau Wi-Fi tools. The knowledge applies to all Wi-Fi network brands. A certification exam will be held at the end of the course.