Ekahau Sidekick
Ekahau Sidekick™ is a WiFi device used for WiFi diagnostic and measurement. Whether used for a pre-installation wireless site survey, validation of a wireless installation or WiFi troubleshooting, the Ekahau Sidekick is purpose built to enhance the WiFi design and WiFi site survey process with more accurate, reliable and convenient results.
Purpose Built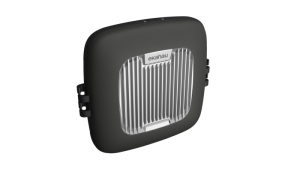 The Ekahau Sidekick was purpose built to integrate with Ekahau Site Survey providing fast accurate survey data including integrated spectrum analysis all within one wearable device. With Ekahau Site Survey software integration, the Sidekick makes wireless design, wireless site surveys, and wireless troubleshooting quicker and easier than ever.
Integrated Dual Band Spectrum Analyzer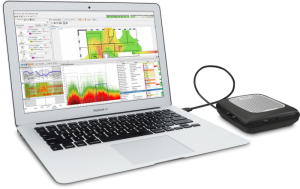 Ekahau Sidekick comes with an ultra-high resolution dual band spectrum analyzer capable of between four to ten times faster spectrum analysis than other WiFi spectrum analyzers currently on the market and a full day of survey time up to eight hours of survey analysis including greater interference analysis then before.
Ekahau Sidekick Technical Specs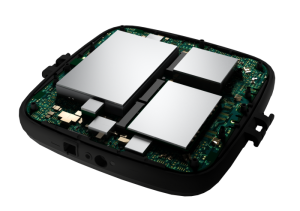 The product comes with two inbuilt (integrated) dual band 802.11a/b/g/n/ac WiFi adapters and is designed to allow wireless engineers to survey twice as fast..
Package Contents:
Ekahau Sidekick unit
Messenger strap
Power supply
USB A -Micro-B cable
Ekahau Sidekick quick guide
Inbuilt WiFi:
Two integrated 802.11a/b/g/n/ac dual-band (2.4 GHz and 5 GHz) enterprise-grade WiFi adapters
Configurable channel scanning
Support for all regulatory domains
-20 dBm to -95 dBm WiFi amplitude range
Integrated WiFi antennas
Spectrum Analyser specs:
Dual-band high resolution 2.4 GHz and 5 GHz spectrum analyser
Hardware max sweep spped of 20 per second within the 2.4 GHz and 5 GHz bands at max accuracy
-20 dBm to -92 dBm amplitude range
2.4 GHz frequency range: 2400 MHz to 2495 MHz (2.400 GHz to 2.495 GHz)
Frequency resolution of 39 kHz (2.4 GHz and 5 GHz)
5 GHz frequency range: 5000 MHz to 5950 MHz (5.000 GHz to 5.950 GHz)
Integrated WiFi antenna
Buying the Ekahau Sidekick in Australia / New Zealand
Interested in becoming an Ekahau Sidekick Reseller or customer, the following product codes and descriptions can be used for ordering the product within Australia or New Zealand. If you have any questions, please feel free to contact us online or call us on 1300 WiFi 000 from within Australia or +61 (2) 8205 7667 from New Zealand.
Product Code: ESK-1 (single unit device)
Product Code: ESK-PACK (Ekahau Sidekick Pro Pack) – includes Ekahau Site Survey Pro software license and Ekahau Sidekick for WiFi site surveys, analysis, optimisation and troubleshooting.
Ekahau Sidekick Price
SpectroTech won't be beaten on the Ekahau Sidekick Price within Australia and New Zealand. That's our promise as an Ekahau Sidekick Distributor. Being an independent Wi-Fi specialist for over 15 years, we simply want every WiFi engineer that's responsible for WiFi site survey, WiFi Design or WiFi troubleshooting to have the product in their professional WiFi kit, and to make your job quicker, more efficient and with the right results. Simply contact us for a quote through the link below.