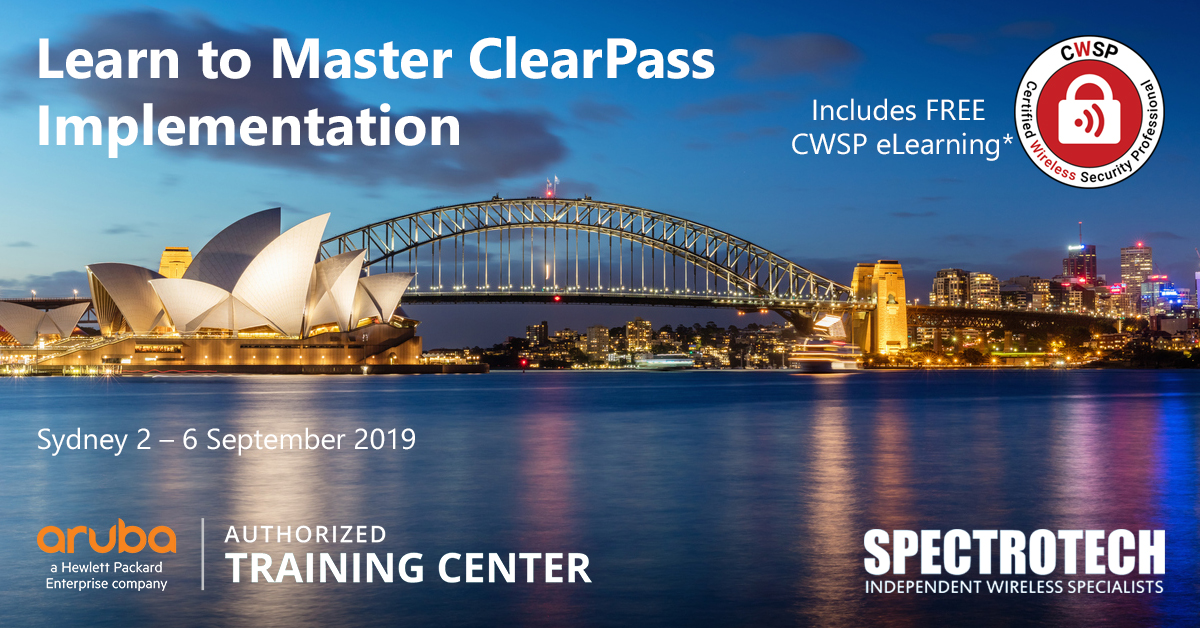 Aruba Advanced ClearPass Troubleshooting and Solutions
Formerly named Aruba ClearPass Advanced Labs (CPA) 6.7 Instructor Led Training (ILT)

Click here to register for this course
15% Discount Offer Plus Free CWSP Training
Register before 16 August 2019 and receive 15% off plus a FREE CWSP eLearning product valued at $795 USD*.
Course Overview
The Aruba Advanced ClearPass Troubleshooting and Solutions course, formally named ClearPass Advanced Labs (CPA) prepares attendees who are familiar with ClearPass products to master their knowledge and experience through a series of challenging lab exercises, under the guidance of an Aruba Certified Instructor (ACI). In this course, attendee's are presented with customer case studies, and are required to design ClearPass services, and integrate network devices to meet the customer's requirements.
Upcoming classes:
Sydney:
Other Cities:
Related Certifications: Aruba Certified ClearPass Expert (ACCX) V6.7
Price: $4,626.00 (ex)

Contact us for Aruba partner and customer discounts.

SpectroTech also accepts Aruba Training Credits and Vouchers.

Duration: 5 days, Classroom – Instructor Led Training (ILT)
Availability: Sydney, Melbourne, Brisbane, Canberra and Adelaide. Onsite (customer premises) available for minimum 6 people.
Skill Level: Advanced
In preparation for: HPE0-A122P: Aruba Certified ClearPass Expert Practical Exam
Who is this course suited to?
The Aruba Advanced ClearPass Troubleshooting and Solutions course is ideal for networking professionals who are familiar with ClearPass products, are looking to master their ClearPass implementation skills across a range of Network Access Infrastructure devices, and those looking to achieve Aruba Certified ClearPass Expert (ACCX) certification.
Topics
Data and Management Port Configuration
Hardware and Data Management Ports
Best Practices
Services Routing and Tech Note
Guest Authentication
Web Login Process
Pre Auth Check
Self Registration Process
Registration Back End
Posture and OnGuard
OnGuard Agents
Policy Flow
Posture Tokens
Access Tracker Output
WebAuth Service
OnGuard Dissolvable Agent Workflow
SQL Basic Knowledge
What is SQL
Common Commands
Connecting ClearPass Database
External SQL Database
Query Database
Building Authorization Sources
Use New Authorization Sources
How to add
Cisco WLC Intial Setup
Instant vs Controller
Aruba Instant
Aruba Controller
Cisco Switch NAD
Cisco 802.1X Wired Service
Global Configuration
Port Configuration
Cisco WLC vs Aruba Controller
Cisco WLC
Aruba Controller
Cisco Wired Guest
Cisco Switch Global Configuration
Cisco Switch Port Configuration
Cisco Switch RADIUS Attributes
Cisco Switch Guest Authentication
3rd Party MDM
Other Collectors
Profiling Fingerprint Updates
3rd Party MDM
Using Profiling Data in Enforcement
Profiling on 802.1X Networks
ClearPass Cluster
ClearPass Cluster
Virtual IP
HTTPS Server Certificate
RADIUS Server Certificate
Multiple Server Deployments
ClearPass Update
Platform: Unified Notification
CPPM: MDM Server will not overwrite Endpoints
OnGuard: Dissolvable Agent
Onboard: Ubuntu Linux Support
Onboard: Chromebook Support Features
Guest: Admin UO Refactoring
Guest: HCG Mode
Guest: Social Network Logins
ClearPass Update
Platform
Profiler
CPPM
OnGuard
Onboard
Guest
Course Objectives
After you successfully complete the Aruba Advanced ClearPass Troubleshooting and Solutions course, attendees will be able to:
Understand ClearPass Policy Design
Perform Integration of NAD Devices
Implement Tailoring for Customer Requirements
Troubleshoot and Report
Document all work
Click here to register for this course
*Offer is not available in-conjunction with any other special pricing or discount offers, and is limited to the course scheduled in Sydney from 2 – 6 September 2019. Available when purchasing direct through SpectroTech. Not available when redeeming Aruba training vouchers or training credits.
---