Security Training Bundle
Receive a COMPLIMENTARY CWSP eLearning course when purchasing a seat in the Aruba ClearPass Essentials (CPE) class at 20% off. Click Here to Register.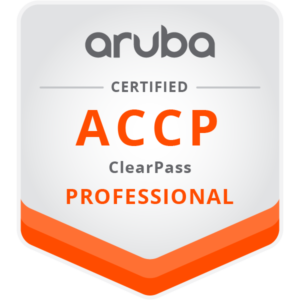 ACCP – Aruba ClearPass Essentials (CPE)
The Aruba ClearPass Essentials (CPE) course prepares attendees with the foundation skills and knowledge in Network Access Control using the ClearPass product portfolio. The 5-day Instructor Led Training (ILT) provides classroom based, interactive learning with modules and labs designed to teach attendees the major features of the product portfolio. Attendees will learn how to setup ClearPass as a AAA server and configure the Policy Manager, Guest, OnGuard and OnBoard feature sets. The CPE class also covers integration with external Active Directory (AD) servers, Monitoring and Reporting, as well as best practices.
Course Dates: 28 Sep – 2 Oct 2020
Associated Certification: Aruba Certified ClearPass Associate (ACCA) and Aruba Certified ClearPass Professional (ACCP)
Cost: $3,289* | Normally $4,112 AUD (ex)
Click on the image, course title or here for the full course outline.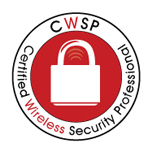 CWSP – Certified Wireless Security Professional
The CWSP Wireless LAN Security course consists of hands-on learning using the latest enterprise wireless LAN equipment. This course addresses in detail the most important and relevant WLAN security protocols, exchanges, and deployment strategies in the enterprise today. We focus heavily on understanding the functionality of the 802.11i amendment (now part of the larger standard), including authentication, encryption, and key management. 802.1X and EAP are also central to this conversation, with an in-depth examination of the inner-workings of each authentication mode and EAP type used in wireless LANs today. Other infrastructure security solutions are also taught, such as role-based access control, segmentation, VPNs, firewalls, wireless intrusion prevention and monitoring, secure roaming, and network management. Finally, no security course is complete without taking a look at security vulnerabilities, attacks, audit and penetration tools, as well as policy and prevention. We cover every type and class of WLAN security solution available on the market.
Students who complete the course will acquire the necessary skills for implementing and managing wireless security in the enterprise by creating Layer-2 and Layer-3 hardware and software solutions with tools from the industry leading manufacturers. This course is also designed to prepare attendees to take and pass the CWSP security exam.
Course Dates: On-demand | eLearning
Associated Certification: CWSP – Certified Wireless Security Professional
Cost: COMPLIMENTARY* | Normally $1,200 AUD (ex)
Click on the image, course title or here for the full course outline.
Click here to register for this course
*Discounted price excludes GST and is valid for the above advertised dates only. Seats are limited and available on a first come, first served basis with provision of a purchase order or upfront payment to secure seats. This offer is not available when redeeming Aruba training credits or in conjunction with any other discount offer. Further multiple seat discounts may be offered where seats are available. Email training@spectrotech.com.au for a formal quote, to reserve seats, or for multiple seat offers.